Local label Crossroads of America Records is now taking pre-orders for the upcoming release of Baptist Girls by regional musician Bro. Stephen. The album is scheduled to be available on January 24, 2012 (CD, vinyl, digital) and is a long time coming.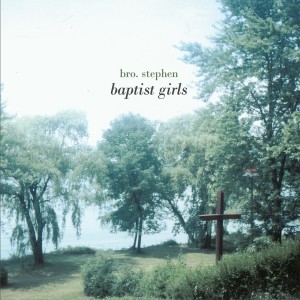 Since making the big move from Louisville, KY to Bloomington nearly two years ago (and then back to Louisville again), Bro. Stephen (interpreted as "brother" not "bro") has been slowly writing, recording, traveling, and anticipating the day that is finally within a steady arm's reach. The twelve song album features songs crowds have grown to love such as "Patrons of the Arts", "Tears on Tape", and "Bare Wood". If you purchase the album on vinyl, you'll find two bonus songs "Fix Your Grip" and "Late Night Park Race".
If you are new to the music of Bro. Stephen (actually the music of Scott Kirkpatrick), I can tell you this: it's calm, thought-provoking, and drenched in emotional imagery. Kirkpatrick has a soothing and honest voice, that draws you in from the start. He doesn't just fit stories into songs, he sets up an entire situation in which you can smell the air, see the walls, and hear the sounds of the world he describes in song.
To pre-order your copy of Baptist Girls click here.